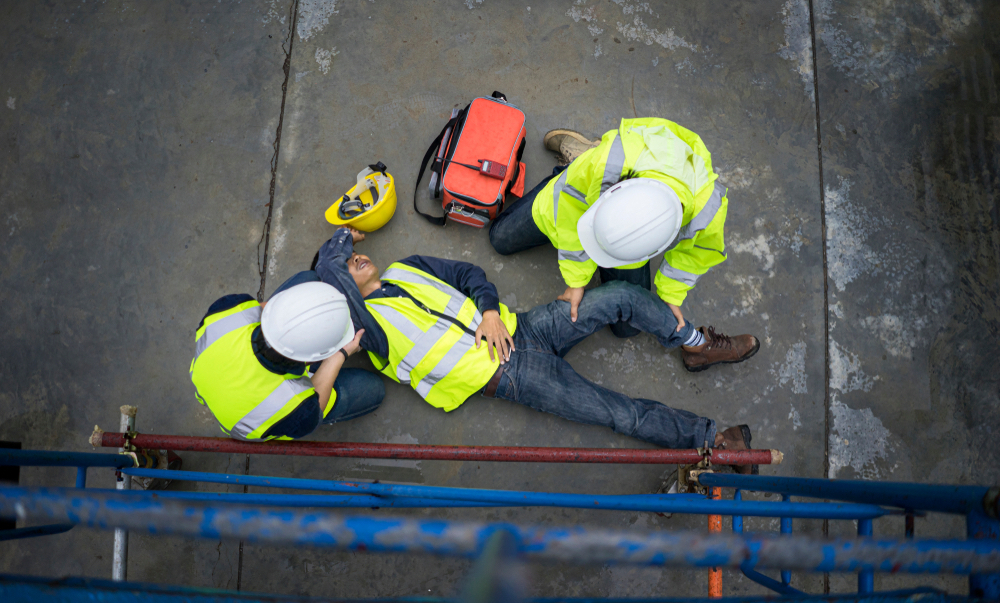 Aggressive Construction Site Injury Attorney in Philadelphia, PA Holds Site Owners and Contractors Accountable for Carelessly Injuring Clients in Allegheny County, Philadelphia County, and Across Pennsylvania
Construction sites are one of the most dangerous places to work. OSHA reports that about one in five worker fatalities in private business occur in the construction industry. Construction sites are often filled with dangerous equipment and machinery and hazardous construction materials. Whether you were injured in a construction job or you were an innocent bystander or passerby who was hurt by a construction accident, you have rights to receive financial compensation to help you through your recovery. A Philadelphia construction accident lawyer at Baldwin Matzus, LLC will fight for your interests.
Over the past 20-plus years, our firm has been focused on representing accident victims. We know how devastating serious injuries can be for your future. That is why we work to not only help you make a full financial recovery but to also help you recover physically and emotionally. Our legal team will provide you with the personalized attention and full effort that your case needs, leaving no stone unturned to ensure that you recover all the compensation you may be entitled to under the law. No matter how long your case may take, you can expect us to be by your side throughout your entire recovery process. 
After you have been injured in an accident on a construction site, get the experienced legal help you need to pursue every available avenue for full compensation. Reach out to Baldwin Matzus, LLC for a free initial case review to speak to a Philadelphia construction accident lawyer about your options for obtaining the financial recovery you need and deserve and to get peace of mind knowing that you have a legal team focused on your well-being.
Types of Construction Accident Claims We Can Help With
A construction site injury attorney in Philadelphia, PA with Baldwin Matzus, LLC can advocate for your interests after you have been injured by a construction accident involving:
Slip or trip and fall accidents
Roof & ladder fall accidents
Being struck by falling objects
Electrocutions
Fires and explosions
Chemical exposure
Industrial accidents
Motor vehicle accidents
Forklift accidents
Crane accidents
Equipment/machinery entanglement accidents
Scaffolding accidents
Common Causes of Construction Accidents
Construction sites can be incredibly dangerous places, with hazardous materials stored everywhere, powered tools/equipment/machinery in use, and exposed fall hazards. Dangers that people on construction sites can face include:
Defective or improperly constructed scaffolding
Falling objects when they are stored unsecured upon on roofs or scaffolding
Lack of fall protection, including temporarily railings, nets, or warning signs
Defective tools, equipment, and machinery
Removed guards or other safety features on tools/equipment/machinery
Careless or reckless driving of motor vehicles
Negligent operation of construction equipment, including cranes, backhoes, and forklifts
Lack of trench/underground reinforcement
Improper storage of flammable or hazardous materials
Unsecured live wires or power cables
Slippery floors
Wires or cords strewn across walking paths
Improper use of ladders, scissor lifts, or cherry pickers
Failure to stop work in adverse weather conditions
Financial Compensation Available in a Construction Site Accident Claim
If you were injured on a construction site, you may have several options for recovering compensation. First, if you were hurt at work in a construction job, you can file a claim with your employer to recover workers' compensation benefits, which can include:
Payment of reasonable and necessary medical expenses, including reimbursement for qualifying travel expenses
Partial replacement of lost wages or income during your recovery from work injuries or occupational illnesses
Payment for loss or loss of use of specific body parts
Death benefits, which include temporary benefit payments and contribution toward funeral/burial costs
If you were injured on the job in a construction accident that was caused by a third-party's fault, or if you were injured by a construction accident as an innocent bystander, you may be entitled to pursue a personal injury claim that can provide you compensation for:
Medical expenses
Past, ongoing, and future losses of income
Long-term health/personal care expenses
Pain and suffering
Lost quality of life due to permanent disfigurement and/or disability or reduced life expectancy
Contact Baldwin Matzus, LLC for a Free Claim Evaluation with a Knowledgeable Construction Site Injury Attorney in Philadelphia, PA
You should not be left with medical bills and lost income after being injured in a construction site accident. A Philadelphia construction accident lawyer from Baldwin Matzus, LLC can help you pursue your legal options for financial recovery. Contact us today for a free, no-obligation consultation to discuss your case with our firm. 
Frequently Asked Questions about Construction Accidents in Philadelphia
Who might be held liable in a construction accident case?
Various parties may have liability for the injuries and losses that you incurred due to a construction accident. First, if you were injured while working on a construction site, you may be entitled to seek workers' compensation benefits from your employer, regardless of who may have been at fault for the accident. In addition, you may also be entitled to file a personal injury claim when third parties were at fault for the construction accident. Examples of parties who may be held responsible for a construction accident include other contractors or subcontractors on the project, the property owner of the construction site, or manufacturers of defective tools/equipment/machinery used on the site.
What is the statute of limitations on construction accident lawsuits?
If you have a personal injury claim following a construction accident, you typically have two years from the date of the accident to file a lawsuit against liable parties. In addition, if you were hurt on the job, Pennsylvania workers' compensation law requires you to notify your employer of your injury within 120 days of the accident, and if you need to file a formal claim petition with the state to contest your employer's denial or termination of benefits, you have three years from the date of the accident or last payment of benefits to file the petition. Because various time limits may apply to your construction accident claim, it is important to speak to a construction site injury attorney in Philadelphia, PA to ensure that you timely pursue your rights.