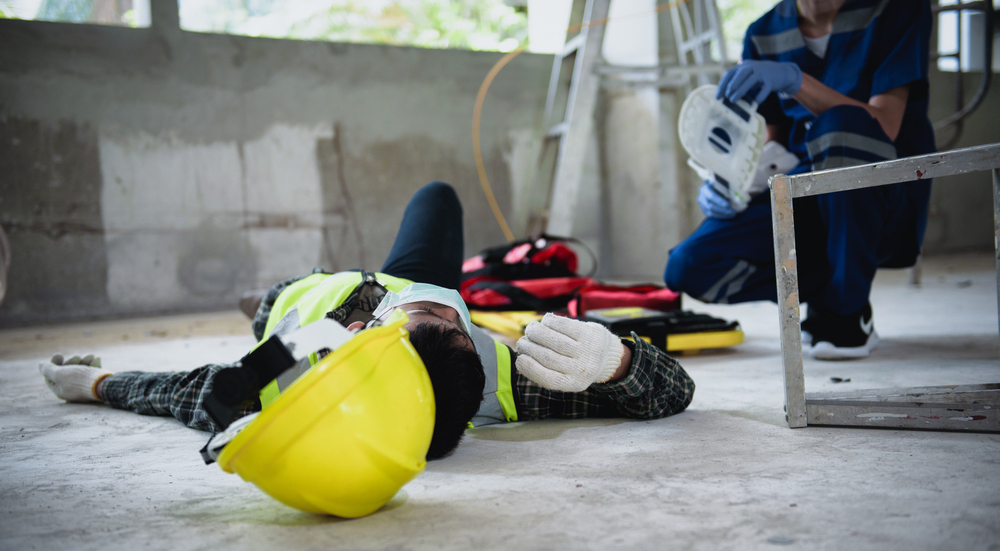 Accomplished Roof Fall Injury Attorney in Philadelphia, PA Represents Parties Injured in Rooftop and Ladder Fall Accidents in Allegheny County, Philadelphia County, and Across Pennsylvania
Roof and ladder fall accidents, especially in the workplace, are unfortunately common and often result in serious, potentially life-altering, injuries. Because of this, the federal government has developed a detailed set of regulations that apply when workers are expected to use ladders or work from heights. In many cases, the negligent provision of defective ladders or the negligent failure to strictly adhere to safety regulations may be the cause of a fall.  In these cases, the negligent party may be held financially responsible for the expenses related to your injuries. At Baldwin Matzus, LLC, an experienced Philadelphia ladder fall accident lawyer will help you evaluate and understand your legal right to recover compensation from a negligent person or entity that is responsible for causing your roof or ladder fall accident. Corporations and insurance companies will often attempt to minimize the amount of compensation to which you are entitled, and workers' compensation claims can be complicated and are often wrongfully denied. 
Our skilled Philadelphia personal injury lawyers are here to fight on your behalf to ensure that you obtain the most full and fair compensation award possible if you have sustained injuries in a roof or ladder fall accident in Philadelphia, Pittsburgh, or elsewhere in Pennsylvania. We represent workers who have been injured on the job and even those who have fallen from a defective ladder on their own property. For a free initial consultation, call or contact our office today. 
Federal Regulations Apply to Help Prevent Roof and Ladder Accidents in Pennsylvania
Throughout Pennsylvania, the Federal Occupational Safety and Health Administration (OSHA) rules apply to protect workers from injury. For example, with respect to ladder safety, OSHA rules require:
All defective ladders are to be removed from use until fixed
The use of clear signs indicating that a ladder is defective and cannot be used (a defective ladder is not considered to be removed from use until clearly marked with a sign)
If a defective ladder is to be repaired, it cannot be used again until it is returned to its original condition (in other words, until it meets the manufacturer's initial design criteria)
Unfortunately, roof and ladder fall accidents frequently cause serious injury to the victim, such as:
Head and neck injuries
Traumatic brain injuries
Spinal cord injuries
Back injuries
Broken bones
Paralysis
Experienced Roof Fall Injury Attorneys in Philadelphia Put Years' of Experience to Work for Victims of Roof and Ladder Fall Accidents in PA
Even if your injuries are expected to heal fully, you may be required to miss work for an extended period of time while you recover physically. Medical bills, physical therapy costs and, other expenses can quickly begin to mount while you are unable to earn income—and workers' compensation is not always sufficient to cover all expenses. Many accident victims mistakenly believe that they are not entitled to pursue a lawsuit to recover compensation because they were injured in the workplace and are receiving workers' compensation benefits. In reality, the workers' compensation system only prevents you from suing your employer after you are injured in a roof or ladder fall accident. 
An experienced Philadelphia ladder fall accident lawyer from our firm can investigate your claim to determine whether you may be entitled to compensation from a third party who is not your employer.  Importantly, we will investigate to determine how your accident was caused so that we can identify all potentially responsible parties. Roof and ladder fall accidents are often caused by:
Failure to properly inspect or maintain ladders
Using ladders on an improper surface, such as one that is uneven or slippery
Using ladders that may conduct electrical current, such as those lacking non-conductive side rails
Lack of safety protection gear in violation of OSHA safety regulations
Failing to turn off nearby power lines
Failure to properly train and supervise workers
Improper instruction as to the ladder's weight capacity
Design or manufacturing defects in a ladder
Failure to promptly clean slick or debris-filled roof surfaces
Injured in a Roof or Ladder Fall Accident?  Call a Skilled Philadelphia Ladder Fall Accident Lawyer for a Free Initial Consultation Today
If you or a loved one have sustained injuries in a roof or ladder fall accident in Pennsylvania, our dedicated injury lawyers are here to advocate for your right to compensation. We know that you likely have questions about your legal rights and possible options for recovering compensation outside of the workers' compensation system, so we provide you with a free initial consultation so that we can explain the legal process and possible avenues for recovering compensation. Call or fill out this online contact form today to schedule your free consultation with an experienced roof fall injury attorney in Philadelphia, PA at Baldwin Matzus, LLC.
Frequently Asked Questions About Roof and Ladder Fall Accidents in Pennsylvania
Why should I be interested in exploring possible ways to recover compensation after a roof or ladder accident when I'm covered by workers' compensation?
Workers' compensation, while extremely valuable, does not provide compensation for 100 percent of your lost wages or other expenses related to the accident. When a third party, non-employer's negligence caused your accident, you should be entitled to recover compensation for every dollar related to your injury—in other words, you should not be required to suffer financially while you struggle to recover physically. Workers' compensation also provides no compensation for the pain and suffering that your physical injuries have caused, while we can recover compensation for pain and suffering via the legal process.
How long do I have to decide whether to file a lawsuit if I was injured in a roof or ladder fall accident?
Generally, you have two years to file a personal injury lawsuit if you were injured in a roof or ladder fall accident in Pennsylvania. If the accident resulted in your loved one's death, the wrongful death statute of limitations expires two years from the date of the victim's death. Despite these relatively lengthy time periods, it's always advisable to begin exploring your legal options as soon as possible, in order to make sure that evidence is preserved and your case is at its strongest.